KRAKOW-CHEAP TRIP FOR A WEEKEND OR LONGER
A PENNY-PINCHER'S GUIDE
Do you like to travel? Would you like to visit Krakow, but you don't fancy the idea of spending a lot of money? You just want a cheap trip to Krakow?
If you answered yes to these questions, then this is the guide for you. We'll tell you how you can organise a cheap stay in Krakow that will provide you with plenty of great memories.
By the way, organising a trip very cheaply like this may also help to make you feel like a local. The inhabitants of the city are known amongst the rest of Polish people as Scrooges.
Important note: at the time of writing, the exchange rate is currently Є1 – 4.60 PLN. The applicable currency in Poland is the złoty (PLN). We have included the prices here also in EUR . It's helpful for calculating how Polish prices translate into the contents of your wallet. If you prefer using cash, it's definitely better to exchange your money. There are not many places here that will accept euros. More importantly, if they do, it's likely to be at an unfavourable rate.
Money exchange in Poland
The first thing to bear in mind if you want to exchange money in Poland, is to pay attention to the exchange rate. Exchange offices often display the buying rate more prominently, and the selling one is in smaller lettering. Before you carry out your exchange, check that the rate is beneficial for you.
If you're paying by card, and you don't have a multi-currency card (like Revolut), make sure you choose local currency on the terminal so that you avoid double currency conversion.
Now let's get down to the details:
How to get to Krakow – cheap flights!
Wizzair, Ryanair and EasyJet all offer flights to Krakow – so there is usually no problem with finding cheap tickets. Keep an eye on search engines such as Skyscanner for good deals.
TIP: Flights to Katowice airport may seem cheaper sometimes, but don't make any hasty decisions. It's better to calculate beforehand if it makes sense financially. Take into account the fact that bus tickets from Katowice Pyrzowice airport to Krakow cost about 50 PLN per person. Another option is to go into the centre of Katowice and then transfer to a bus going to Krakow. A trip like that will be a little cheaper, at around 30 PLN, but it will take much longer.
After landing at Krakow Balice airport, the cheapest option to get to the city centre is to go by train (12 PLN) or local city bus (6 PLN).
You can also use airport transfers, which are the most convenient option. They are much better than taxis, where the price can sometimes be difficult to establish.
Where to stay in Krakow?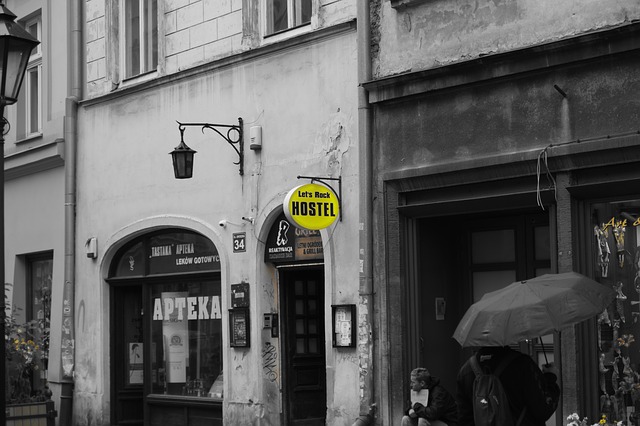 The cheapest overnight options are hostels. For a night in a dormitory room in the heart of the Old Town, you can pay only around 60 PLN. The cost of a single or double room starts from 150 PLN per night. It goes up to the proverbial the sky's the limit – depending on the amenities, additional facilities and location. Check out the numerous booking websites to find something suitable. The most popular one in Poland is Booking.com.
TIP: Sometimes it's good to call directly to your chosen hotel. The reception may be able to offer you a lower price than the search websites.
Couchsurfing is also becoming more and more popular, where you can stay with someone "for free", e.g. in return for a gift from your country or sightseeing together.
Where to eat in Krakow?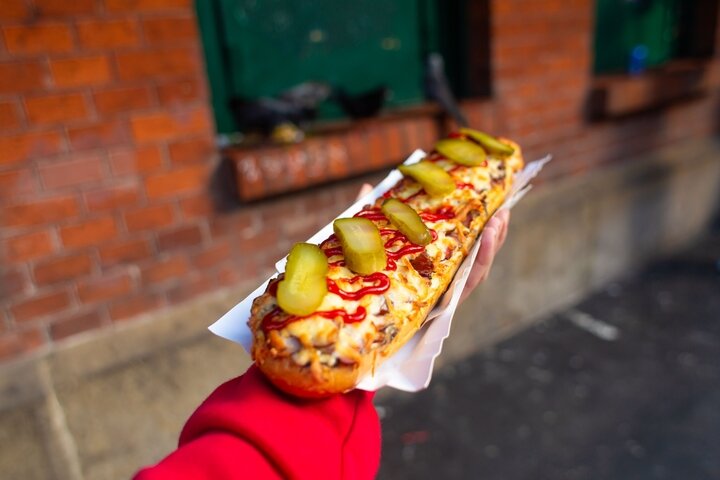 TIP: There is a disguised "Biedronka" discount store in the Main Square (address: Rynek 34).
If you're interested in eating out, prices can really vary. The range of cuisine on offer in Krakow is very wide, ranging from bars selling cheap food to Michelin-starred restaurants.
While you're in Poland, you will probably want to try the local cuisine. The cheapest places where you can eat a traditional meal are called milk bars (bary mleczne). One of them – called Pod Temidą – Is located in the Old Town on Grodzka Street. It's very popular with tourists and students who are more focused on portion size and cost than quality. Milk bars are places where you can eat very tasty meals, but they are not fancy or particularly comfortable. They are also very crowded, so make sure you are aware of the most popular dining hours!
For a more restaurant-like atmosphere (and also slightly higher prices), you could try Grodzka Bar. And although the bill in U Babci Maliny on Szpitalna Street will probably be slightly higher, it still shouldn't give you a heart attack.
TIP: In Poland, you will often see special lunch offers (soup of the day + main dish) in restaurants and bistros. These are usually an excellent and very affordable option.
If your accommodation doesn't include breakfast, and you don't have a kitchen either, a good place to grab a morning meal are the local bakeries, like the popular Lajkonik or Awiteks, where you can grab a sandwich and a coffee.
A main course in a restaurant will usually cost around 20-40 PLN (Є4-8). Drinks – from juices to alcoholic beverages – will range from 6-25 PLN (Є1.5–5.5).
Check out our post about polish food on a budget
How to visit Krakow?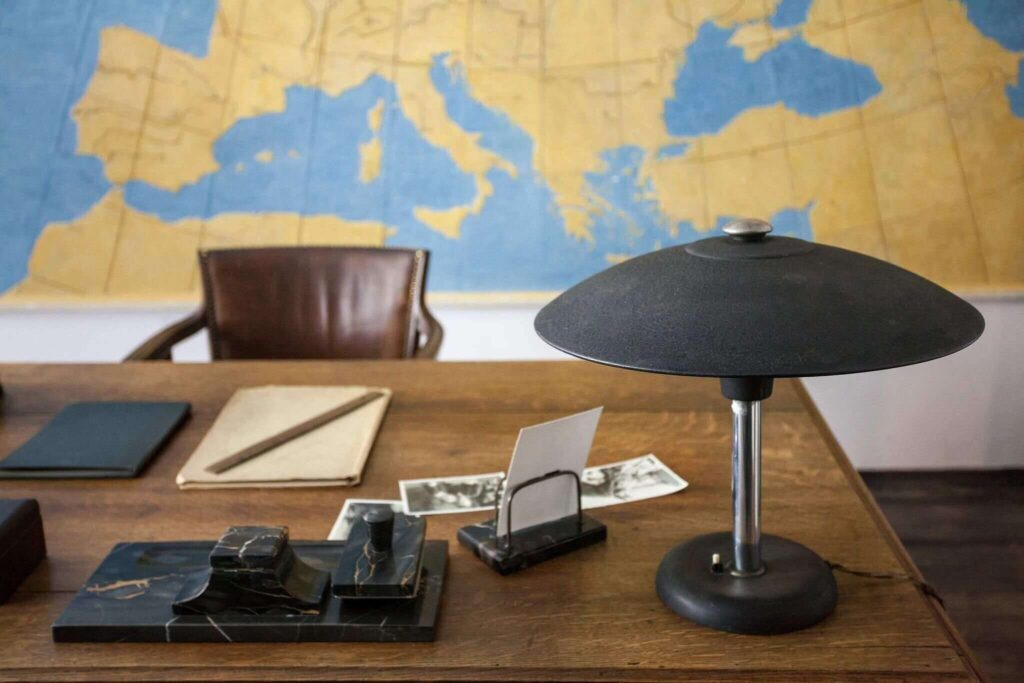 If you plan on visiting some museums, we have good news for you: they are not expensive in Poland. Schindler's Factory offers tickets for 26 PLN (Є6). A visit to the Main Building of the National Museum costs 15 PLN (Є3.40) and entry to the Rynek Underground Museum is 24 PLN (Є5.20).
If you are a student, Krakow is a museum paradise as you can just show your student ID and get as much as 50% off the ticket price.
And that's not all – most of the museums offer free admission on specific days.

Free admission days in museums
In Schindler's Factory, the Eagle Pharmacy and the Old Synagogue, that day is Monday. For the former, it's best to book your ticket in advance as it's very popular. Monday is also the day when it's possible to visit three exhibitions for free at the Wawel Royal Castle: The Crown Treasury and Armoury, The Lost Wawel and Wawel Recovered.
However, the best day to visit museums in Krakow is Tuesday. Then you don't have to pay then for any permanent exhibition in any branch of the National Museum. It includes: the Main Building, the Gallery of 19th Century Polish Art located in the Cloth Hall, Jan Matejko House.
The Manggha Museum of Japanese Art is also open for free on Tuesdays. The International Cultural Centre offers visits for the symbolic fee of 2 PLN. Also the famous Rynek Underground Museum also has its open day on Tuesday. The Nowa Huta Museum is well worth a visit. Particularly its most interesting branch – the Nowa Huta Underground, where you can see some nuclear bunkers! For sunny days, we recommend the Polish Aviation Museum (as most of the exhibition is outside).
Every Thursday, you can visit for free the Museum of Contemporary Art – MOCAK, the Podgórze Museum, Hipolit House and Rydlówka.
Other trips
On Saturdays, you can visit the Krakow Saltworks Museum in Wieliczka (not the actual salt mine but a castle that was the seat of the mine's management board).
Sundays are the perfect day for history buffs. That's when admission is free at the Archaeological Museum, Ethnographic Museum and Home Army Museum.
Important note: It's always worth checking the information on the websites of the particular museums. They may be closed at certain times due to a particular event, or visiting may be limited to certain hours. The last entry to Schindler's Factory on Mondays is at 2 pm, while on other days it is 6 pm.
Take a stroll around Krakow – it's a beautiful city whose biggest attraction is its architecture. While wandering around the Main Square, Wawel Hill or Kazimierz, you will find many historical monuments. There are also plenty of hidden nooks, attractive courtyards and impressive tenement buildings worth seeing.
Beware of the tourist traps
While you're getting to know the city, you might find yourself approached by promoters and invited to visit places that might seem cool but aren't. Check beforehand whether you really want to visit some suspicious "museum of something" located in or near the Main Square.
Always book tours with renowned and trustworthy operators. Visiting Krakow in an electric car organised by an unregulated company might cost as much as 300 PLN. Remember that you may be able to pay even four times less for the same, or better, quality service (like being able to have an audiobook in your native tongue) bought at an established tourist point.
Visiting Auschwitz-Birkenau museum
When it comes to the popular Auschwitz-Birkenau Museum and Memorial trips, there is also a lot to remember. If you want to learn about the history of the place, it's better to choose a tour with a guide. Unfortunately, some companies offer tickets without one for over 100 PLN. The problem there is that visiting the museum without a guide is… free. You just need to book the ticket beforehand (but remember that this may be difficult in peak season). Given all this, it's important to consider whether you really are happy paying that price for a bus ride alone. When you go on an organised tour, choose a service that will not only provide the means of travel, but also comprehensive sightseeing with a licensed guide.
Of course, you can always organise a visit on your own, but you would have to sacrifice a lot of time to do so. The most important thing is to book the tickets and plan how you will get there. The museum is located approximately 80 km from Krakow. It's crucial to take into account road conditions and the security line at the entrance to the museum.
How to get around the Krakow city?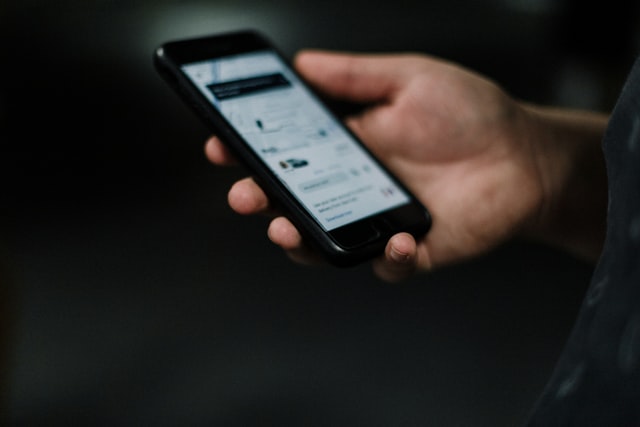 With most of Krakow's attractions located either in the Old Town or the Kazimierz district, the best way to visit them is simply to wander around.
Public transport
If you'd prefer to go somewhere a bit further afield, like Nowa Huta, it's best to choose public transport. It is generally very well organised here. Tickets can be bought from ticket machines at bus or tram stops and on most of the vehicles themselves. The machines have menus in several languages so there should be no difficulties with understanding the instructions. When buying a ticket on a bus or tram, it's best to have both a payment card and cash with you. There are different types of ticket machine. And don't forget to validate your ticket immediately after buying it in the validating machine! We don't recommend fare-dodging – it could turn out to be the most expensive ride of your life. Foreign visitors are required to pay an on-the-spot fine. The controllers carry terminals so the "I have no cash" excuse won't work.
Check out our post about how to use the public transport.
TIP: There are many taxi apps in Poland, such as Uber, Bolt and Free Now. It's a good idea to install one of them on your phone and check the prices because sometimes, especially if you're travelling with companions, taking one of them could well turn out to be cheaper than several single-use public transport tickets.
TIP 2: In Poland, students have a 50% discount on public transport. This also includes public transport tickets to the airport.
Krakow is definitely not the most expensive place for a vacation. Proper planning will help to make the trip even cheaper. And one last piece of advice: try to keep a cool head. You're on vacation, after all!