WHERE TO EAT IN KRAKOW IF YOU HAVE LITTLE TO NO MONEY
When you're on a tight budget, travelling might seem a remote possibility. But in this age of cheap flights and hostels, going places has actually never been easier. And when it comes to authentic Polish food, the city has such a great variety of affordable options that you can organise yourself a real Krakow food tour. Here's a list of some local delicacies that are both cheap and delicious:
OBWARZANEK
A distant cousin of the bagel, the first mentions of this bread snack, which has a slightly sweet and moist inside and a crunchy crust on the outside, date back to 1394. Traditionally sold from street carts, they are really cheap and can be bought for as little as 2 PLN. If you are in the city, you simply have to try an obwarzanek!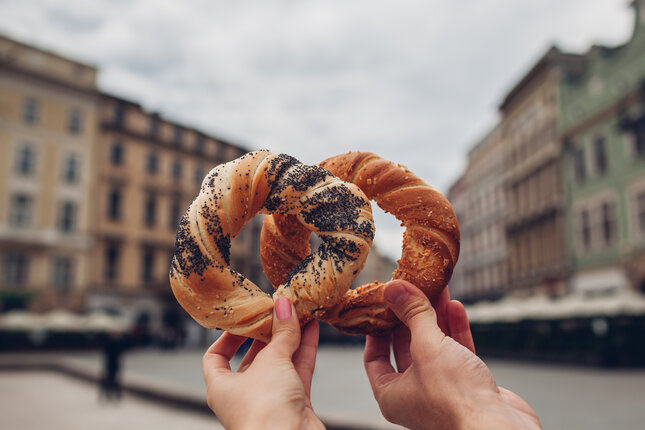 ZAPIEKANKA
The centre of the Kazimierz district is the place to find the iconic Polish fast food called zapiekanki. This is a long baguette, topped with cheese, mushrooms or anything else that takes your fancy. It costs less than 10 PLN but tastes like a slice of heaven.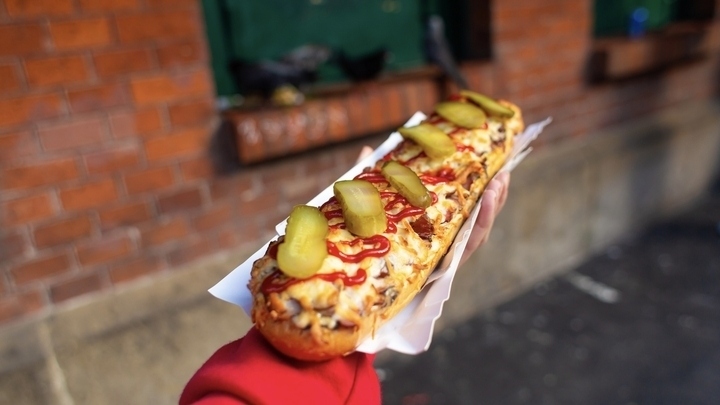 DESSERTS TO GO
We LOVE sweets and thankfully we have a lot to choose from:
Pączki – the Polish version of the doughnut. These are deep-fried buns filled with jam or cream with icing on the top. They can be bought for 3–4 PLN from any bakery.
Kurtosz – a Hungarian dessert, this is a spiral spit cake, with a filling of your choice. It can be bought for 10 PLN in kiosks and food trucks all over the city.
Ice cream – many wonderful new ice cream shops have popped up over the last few years. They are serving delicious ice cream made from natural ingredients and one (large) scoop costs around 4–5 PLN. Krakow ice cream has a very long history. Places like Pracownia Cukiernicza (Starowiślna 83) and Czarodziej (Karmelicka 15) are keeping the tradition going, making them well worth checking out.
MILK BARS. POLISH FOOD LIKE AT GRANDMA'S HOUSE
Popular since the 1950s, these bistros selling traditional Polish food are a staple! Almost every Polish person will have eaten sometime there. Its characteristic name comes from the fact that they initially offered milk and flour- based products to the nation's workers. Prices can vary depending on the location,
but a two-course meal generally costs around 15 PLN.
List of the most popular ones:
Pod Temidą – Grodzka 43
Krakus – Limanowskiego 16
Flisak – Kościuszki 1
Żak – Królewska 84
CHEAP BREAKFAST OPTIONS
It is possible to eat an obwarzanek for breakfast every day! However, if you fancy something a bit different occasionally, there are plenty of places that offer something special. They have morning menus or an option of buying breakfast for just 1 PLN when you order a regular coffee. Many of them are located in the city centre or near the Vistula river. There are also some in Zabłocie, which is a very interesting, fast-developing district with an industrial feel.
DRINKS
Even if you're travelling on a budget, you may still fancy a good party. Krakow's pubs and bars offer lots of great promotions. One of the best ways to find them is simply to go out into the town! Promotional staff handing out flyers and vouchers for particular venues are a common sight in the city, especially in the Main Square and the surrounding streets. Other options are bars offering beer, shots or wine for 4 PLN each. You can also buy a snack to go with your drinks!
Quite simply, the list could go on and on. Krakow is not only very popular with tourists, but it's also an academic city. It means that the prices in many places are still within a student's budget. We all share a love of great food and drinks, so try to check some of these places out. It's a great way to make the most of them while you explore the city!
Also, referring to drinks, checkout our Best food and drink places list for summer.